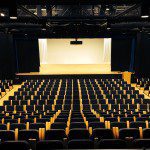 American Community School Arts Centre
Performing Arts Centre full technical theatre installation
The American Community School in Cobham is a co-ed day and boarding school situated over 128 acres and representing over 100 nations. We were appointed by Keepmoat Construction to deliver a specification designed by Drama By Design Theatre Consultants to the impressive performing arts centre with includes music classrooms, a music technology suite, drama studios, performance spaces and a 500+ seat auditorium.
The original system specified for the performing arts centre was a traditional tungsten scheme. However, as the programme developed the client wanted to adopt the latest LED technology benefitting both the creative benefits and the school's green footprint. Working with Drama By Design, we designed the new electrical infrastructure required.
For this project we installed, tested and commissioned:
To main theatre, high school and middle school drama rooms: ETC luminaires comprising Source 4 Lustre + Profiles, Studio Desire D40s and Paletta Baton for cyclorama lighting. Selecon PL range of luminaires was also provided to supplement the ETC system.

Latest ETC Element 40 lighting desk with remote radio triggers to allow control from anywhere in the performance venue.

Strand 200 series lighting desk to drama studio.

Community Audio speakers with symmetric processing and Powersoft digital amplifiers allowing reconfiguration of the system to suit various performance styles and remote control from the lectern.

Yamaha LS9-32 digital desk with iPad control connectivity allowing ability to walk around and adjust levels remotely.

Full range of technical facility panels to allow for ease of connectivity as demands on venue change in time.

AV system comprising of a front of house HD projector provided for lectures and similar ad-hoc presentations. Plus Christie L2 1500 full HD digital projector for stage projection allowing performances and scenery backgrounds to be displayed on the 8m rear screen. Entire AV system is controlled by Vitie touch screen system.

A full building wide paging system and integrated show relay provided by BOSCH Praesideo digital network paging system which also connects to the school-wide system allowing for a fully integrated network. Visual Show Relay connectivity is also provided in dressing rooms and theatre performance spaces including both drama studios to allow the cast to see stage activity.

Electrically operated triple E chain driven perimeter curtain track to the main auditorium. When retractable seating is closed, this allows the hall to be transformed into flat floor drama space at the touch of a button.

Tracks and drapes to fully furnish stage and acoustic curtains to seven performance rooms to allow acoustics in rooms to be altered as required.
Project Manager: Paul Holt
Client: Keepmoat Construction
Completion Date: August 2014
Approximate Value: £425,000
Theatre Consultant: Drama By Design
Overall Schedule: 18 months
Read our knowledge article about The Benefits of LED Stage Lighting to find out more reasons to switch to LED.