Comeercial Audio Visual Soltions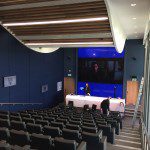 Specialists in Commercial Audio Visual Solutions
We work directly with private and corporate clients for their commercial audio visual requirements covering lighting, sound and projection.
This might include venues such as large conference centres, town halls, leisure centres, community halls, theatres and studios. And also more diverse clients such as The Christie NHS Foundation Trust conference centre, Manchester City Press Conference Studio and Travel Counsellors broadcast studio in Manchester.
We work closely with businesses on lighting and audio solutions from the conception stage right through to design and then installation to ensure the best commercial AV solutions, unique to specific requirements and venues.
We can install audio visual services and equipment from projectors to televisions, touch screens to integrated lecterns. This is perfect for conference centres where meetings or lectures take place but can also be installed into large home based projects where smaller groups of people may meet for seminars or other meetings.
Whatever the size of the venue, we can accommodate the most suitable commercial AV solutions and install them efficiently with minimal disruption.
Your audio visual system installation might also include Public Address systems if the venue is particularly large, as well as recording facilities compromising analogue, digital and computer based systems. Many theatre or performance based venues may require lighting solutions such as dimmers or lighting bars and grids which help maximize the professional impact and ambiance of the venue.
Call our team now to discuss your unique audio visual requirements
For more information on our work with private and corporate clients or a free quote, please call us on 0161 241 2785 or email us at info@stagestudioprojects.co.uk