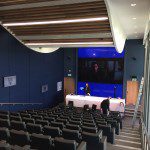 Manchester City Football TV Press Conference Studio
Designed and installed stage lighting facilities to TV Press Conference Studio
Manchester City Football Club needed a TV Studio for their press conferences and because of our experience designing and installing TV Studios around the country they selected us in 2014 for their new Football Academy. This provided a global centre of excellence for the development of young footballing talent. Including a 7000 capacity stadium, 16.5 football pitches, classrooms and a dedicated media centre including TV Press Conference Studio. The club has invested in regenerating the local community and contributed 5.5 acres of land to build community leisure facilities. This film gives you an idea of the scale of the project: City Academy Fly-Through
The team have worked with some top football clubs installing TV studios and TV press conference studios and were approached by Manchester City directly to deliver the broadcast lighting for their Press Conference Studio.
We collaborated with acclaimed Lighting Director, Martyn Rourke, to realise the studio lighting vision and deal with some of the building's challenges – particularly an entirely windowed wall overlooking the pitch. All lanterns are also capable of being tuned to meet the lighting level required for outside broadcasts.
Working as subcontractors to the prime contractor Bam in delivering this project.
For this project we:
Chose a daylight scheme to balance the windowed wall including Photon Beard Fluorescent Soft Lights and Arri L7C LED high-performance studio fresnels. These energy efficient choices also matched the club's strict green policy.

Installed lanterns discreetly within existing wave-like ceiling design so as not to affect the sight lines to the video wall.

Set up lighting states to suit press conference and lecture modes on a digital lighting desk. The AV System Integrator then captured the information onto an AMX system allowing complete control of the rooms systems by a touch screen on the press conference desk.

Installed lecture mode lighting consisting of four Selecon PL1 profiles to provide additional lighting to this area when required.

Incorporated the luminance of the video screen as backlighting in the overall design to supplement the Photon Beard soft lights.
For more information on Manchester City's new academy, click here.
Project Manager: Paul Holt
Client: BAM Construction
Approx Value: £35,000
Completion Date: January 2015
Overall Schedule: 4 weeks