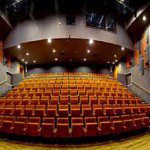 Screen and Performance Facilities Installation
Scala Cinema is the oldest one-screened cinema in North Wales and was a highly popular and much-loved family cinema from 1910 until its closure in December 2000. In 2001, The Friends of Scala Arts Centre (FOSAC) was set up by residents with a vision for an ambitious, cutting-edge cinema and arts venue to raise funds for new performance facilities.
FOSAC wanted two fully digital cinemas that could represent a whole new experience for local cinema-goers. Also, they wanted flexibility in the larger cinema to transform the space into a studio theatre that could be used for live performances including drama, dance and music together with conferences and exhibitions. They call this space Studio 2.
For this project we:
Worked with PMC Consultants, developed an appropriate performance facilities specification that suited the client's varied needs and budget.
Installed:

9.77m x 5.39m cinema screen to Studio 2 and 7m x 5m to other cinema Theatre (Studio 1).
raise and lower truss system above the stage area, carrying internally wired bars, full set of tracking and drapes, PA system and flexible lighting. The truss can be raised into the ceiling void and drapes removed for cinema screenings, then lowered and drapes added with ease for live performances.
fixed lighting bars above the seating area.
72 channels of digital dimmers using Strand wall racks.
various independent sockets and full DMX infrastructure to allow the use of additional intelligent lighting to enhance live performance further.
visual show relay system to all dressing rooms and green room.
cameras to cinemas with viewing screens in main reception area.
strand computerised lighting desk.

Built sound equipment rack housing radio mic receiving, CD/Mini Disk player, effects processor, digital loudspeaker management system, mixer and amplifiers. This combination allows for a full breadth of sound performance options complimented by a 24 channel mixing desk.
Supplied a Genie hoist to allow access to fixed lighting bars.
Scala also has an on-going maintenance contract with PG Stage incorporating an annual service of all mechanical elements as well as portable performance equipment. PG Stage is also 'on call' for any problems encountered throughout the year.
Client: Denbighshire Borough Council
Completion Date: February 2009
Approx Value: £150,000
Overall Schedule: 20 weeks
Visit the Scala Prestatyn's website to find out what's on, current film showings and their rich history