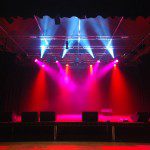 Bury Met Arts Centre Stage Lighting Upgrade
The Met Arts Centre is a hub of live music noted nationally for its specialist folk music programme, incorporating two performance spaces and Edwin Street Recording Studio. As an independent charity, The Met works to develop a growing local audience to experience the arts and nurture traditional talent to grow into national stars. It is an independent arts and entertainment venue run by Bury Metropolitan Arts Association, supported by Arts Council England and Bury Council.
Working with trading partners Flashlight Ltd, were invited to carry out some improvements to the stage lighting at Bury Met Arts Centre main theatre. The brief was to replace the lighting grid over the stage and add some new lighting barrels to the front of house area.
For this project we:
Replaced the existing lighting support structure with bespoke manufactured internally wired lighting barrels along with plain alloy tubes to form a rigid grid.
A total of 110 lighting circuits along with a DMX network were wired back to the control area where two Phillips wall racks and a special Wieland patch bay were fitted. This set up allows all socket outlets to be either dimmed for production lighting or non-dimmed to support house lighting and moving heads.
Re-installed the theatre's other equipment including tracks, drapes and masking legs to their original position ensuring the theatre could carry on as previous.
The installation was made in such a way as to accommodate the theatre's summer programme. Two fortnightly blocks at each end of the season were enough to ensure as little interruption as possible to the day to day working of the venue.
Testimonial:
"From the initial site survey right through to the installation, the management were helpful, professional and efficient. The installation was carried out at a time that suited us, and all of the work was done to an excellent standard and schedule. The system is now being used on a daily basis for concerts and theatre events. I would not hesitate to recommend the company for performance installations." Chris McClung Technical Manager Bury Met Theatre
Client: Bury Met arts entertainment venue
Completion Date: August 2011
Approx Value: £24,000
Overall Schedule: 4 weeks
Find out What's On at Bury Met